Fossil Hunting at Folly Beach
Finding shark teeth on Folly Beach is easy when you know the right technique! Located on Folly Island, the FBA provides adventurers incredible access to a large assortment of shark teeth from the Pliocene and Pleistocene Epochs. (A general list of the sharks and land animals can be found below.)
The FBA starts from a walk-in beach access point. From there, our adventure stays in the general vicinity of the access while hardly any ground is covered to yield incredible shark teeth! The most common teeth are from bull sharks, lemon sharks, and sand tiger sharks, although excellent great white teeth and occasional Megalodon fragments can be found.
Recommended Items: Water, sunscreen, water shoes or strapped sandals, raincoats, snacks, camera/cell phone, readers/Rx glasses.
Collection pouches provided!
Tour length: 3 hours
Click or scroll for Tour Pricing
Please review our terms, here​.
​
Enjoy your tour? Don't forget to tip the guide!
Everyone gets fossil hunting aprons!
A flawless 2.25" great white!
Proud finder of his first ever tooth
Half of a 6" Megalodon!
Lots of bone fragments can be found!
A lovely great white shark tooth!
Megalodon fragment.
A nice mako tooth!
Classic great white tooth from Folly
Large lower great white tooth!
Beautiful tiger shark tooth!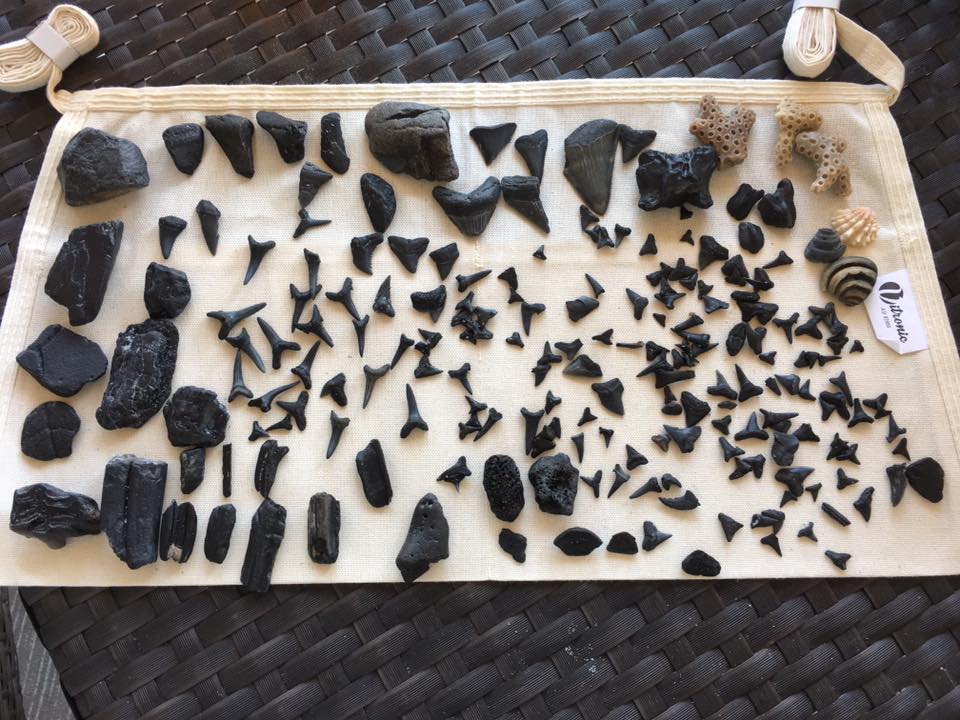 One person's haul!
Lots of beautiful teeth in there...
Sampling of finds from Folly.
On the FBA you can find fossils from:
Megalodon Shark
Great White Shark
Giant Mako Shark
Sand Tiger Shark
Longtooth Tiger Shark
Carcharhinus Sharks
Snaggletooth Shark
Tiger Shark
Lemon Shark
Sea Robin Fish
Drum Fish
Assorted Rays
Capybaras
Mammoths
Mastodons
Turtles
Tapirs
Armadillos
Adults (16+): $65.99
Children (5-15): $49.99
Children 4 & under are FREE!
​
Group/Family Discounts available!
Click the "Book Now" button for rates.